Asset

Management

In our bid to stimulate agro-investment in Jamaica, Agro-Invest extend our service to the management of privately-owned lands, to engender increased agriculture production and farm profitability. To this end we provide property management and commercial leasing.

If you are unsure of the best usage of any unused land space the Agro-Invest will guide you through the process of identifying the most suitable agricultural enterprise to invest in and aid in the development of this business. In addition to land the Agro-Invest provides other facilities geared at aiding the sector, below is a list of assets which is available for rental.

Office, Warehouse and Factory Rental
Warehouses
Processing/Post Harvest Facilities
Living Accommodations
Refrigerated Storage
Office Space
AIC Lease Application
Small

Ruminant Investment

Jamaica currently imports between 60 and 70 percent of its meat consumption and 90% of its dairy product consumption. With less than 15% of registered Jamaican farmers engaged in the production of livestock, putting a serious dent in the importation of meat and meat products requires serious investment. The development of small ruminant agro-parks in Middlesex utilizing lands previously mined for bauxite will allow for increased production and productivity as ruminants tend to strive best in southern parishes on the plains that experience variable (low) rainfall and dry vegetation.

The parishes of Clarendon, Manchester and St. Elizabeth have natural pastures suitable for grazing and ruminants developed under strictly organic conditions opens the opportunity for profitability in the growing organic/healthy market segment. Jamaica's current chevon and mutton consumption is largely satisfied by Australia and New Zealand with imports totalling close to 2.5 million KGs in 2017 valuing $851,982 US worth of chevon products and $8,947,747 US of mutton and lamb products. Local production covers on average 15 % of the total national demand. To directly substitute these imports herd sizes need to increase by 250,000 ewes and 30,000 does.

The Small Ruminant Agro-Park will provide investors with:

 Sharing economy including security to help mitigate against praedial larceny
 Quality management systems
 Facilitation of movement along the value chain (slaughtering, processing, marketing)
 Technical on-site support
 Tractability improvement
 Integrated livestock production
 Improved small ruminant genetics

The market potential is remarkable and yearning for investment. Commercial small ruminant investment requires an estimated initial capital outlay of 4.5 million JMD.
Plantain

Garden River (PGR) Agro Park

Located in eastern St. Thomas, the Plantain Garden River (PGR) Agro-Park sits on 253 acres of prime agricultural lands suited to the production of a wide array of crops from roots and tubers to herbs and spices.

The predominant soil types are golden grove sandy clay loam, killancholly clay loam, caron hall clay loam, Winchester sandy clay loam, bonny gate stoney loam and serge island sandy clay loam. Investors at this location are encouraged to produce pumpkins, hot peppers, irish potatoes and bananas to tap into unfulfilled local demand. Herbs and spices - especially ginger, is known to do extremely well on this Agro-Park.
Amity

Hall Agro-Park

Sitting on the major arterial access to the main aggregation points in the logistics hub, the Amity Hall Agro-Park in St. Catherine provides the catalyst for investors who are seeking to integrate primary production with value added and export trade.

The predominant soil type is sydenham clay. Crops known to do well based on the existing climatic conditions and soil type include: cucurbits (watermelon, cantaloupe, zucchini, and squash), hot peppers and okra – all highly demanded by the hotel and food service industries. Roots and tubers, especially sweet potato does well on this Agro-Park. The land is suitable for development of integrated agro-industrial systems as the wide expanse of 2,340 acres allows for the possibility for production at scale to provide throughput for agro-processing syste
Spring

Plain and Ebony Agro-Park

The Spring Plain and Ebony Agro-Parks are adjoining properties situated off the Toll Gate Main Road in Clarendon. The properties are approximately 15km from the parish capital May Pen and 55km from Kingston, the country's major commercial district.

The soil types at these locations are predominantly clay and clay loams which are derived from the deposits of the Rio Minho and Milk rivers. A mix of bonny gate stoney loam, st toolies and four paths loam are the most popular.

The 1,197 acres of lands at Ebony Park and 944 acres in Spring Plain are suited to the production of tubers, cucurbits, orchard crop such as fruit trees (mangoes, otaheite apples, papaya, and breadfruit), condiments and vegetables.

This park is best suited for investors who require upwards of 20 acres of land for production.
AMC

COMPLEX

The AMC Complex located at 188 Spanish Town Road in Kingston is being touted as the future Agro-Hub of Jamaica for the growth of agricultural value chain development with facilities suitable for value added agricultural production and inbound and outbound logistics. The Agro-Investment Corporation managed complex spans over 100, 000 SQ FT and currently houses food processors, exporters and service providers who engage in worldwide trade of herbs and spices, ground provision and fresh and semi-processed fruits and vegetables.
Some of the current users of the complex include:
Grace Food Processors
Jamaica Export Trading Company Limited (JETCO)
Fairfield Farms LTD
Sunshine Food Processors
Carita Jamaica Limited
Antillean Import-Export Co Ltd
Trout Hall Limited
Agri-Life Foundation
The complex has just over 12, 000 SQ FT to accommodate office and administrative spaces and over 90,000 SQ FT which is ideal for processing, packaging, warehousing, cold storage and distribution. The proximity to primary production, factories and ports of entry makes this a very attractive option for investors.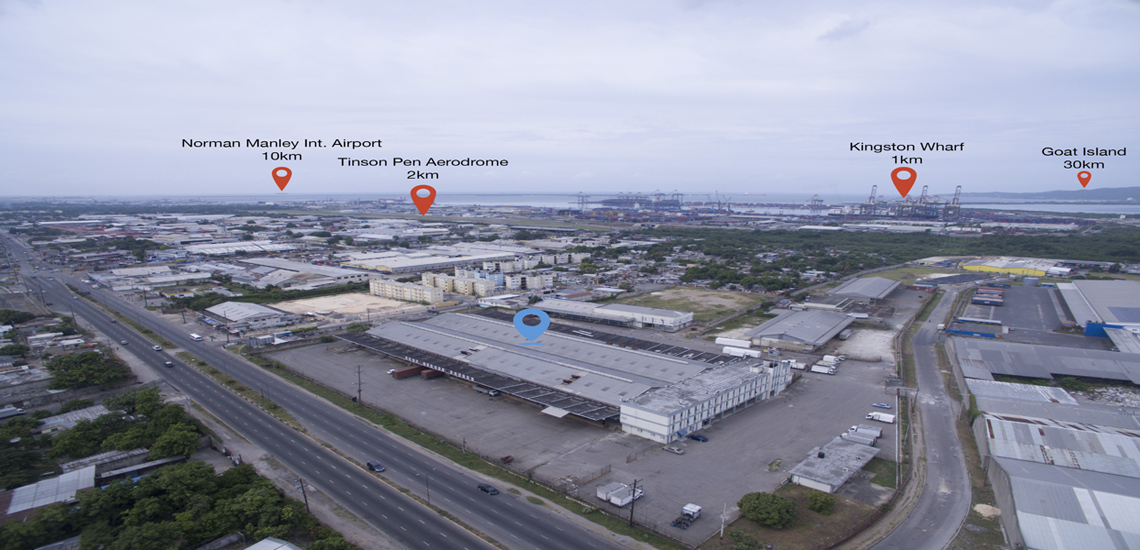 The

Property Features

 Main Warehouse Building (12 warehouses)
 Warehouse Building 1
 Warehouse Building 2 (handling facility)
 Warehouse Building 3 (Processing Facility)
 Warehouse Building 4 (Packaging Facility)
 Cold Storage